If you evaluate the heating options available for the colder month, you will confine between favourite possibilities like a gas stove, wood stove and electric heater. The fuels used by the choices that we mentioned are not eco-friendly. The resources of natural fuel are decreasing dramatically that we must have to concern about it. Global warming is now a trending and essential issue. If we keep polluting our air, it will not be good for us. We have to reduce the use of natural resources for the residential and industrial purpose. Now governments are concerning people to use the product that utilises the renewable energy. That's why pellet stoves are now trending quickly in the USA, and the developed country as fuel used in the pellet stove ( wood pellets, corn pellets etc.) are made with waste. One question will undoubtedly be popped up on your mind—wood stove vs pellet stove—which one is best suitable for all expect of view.

Pellet stove Vs Wood stove—Discussion with every point of view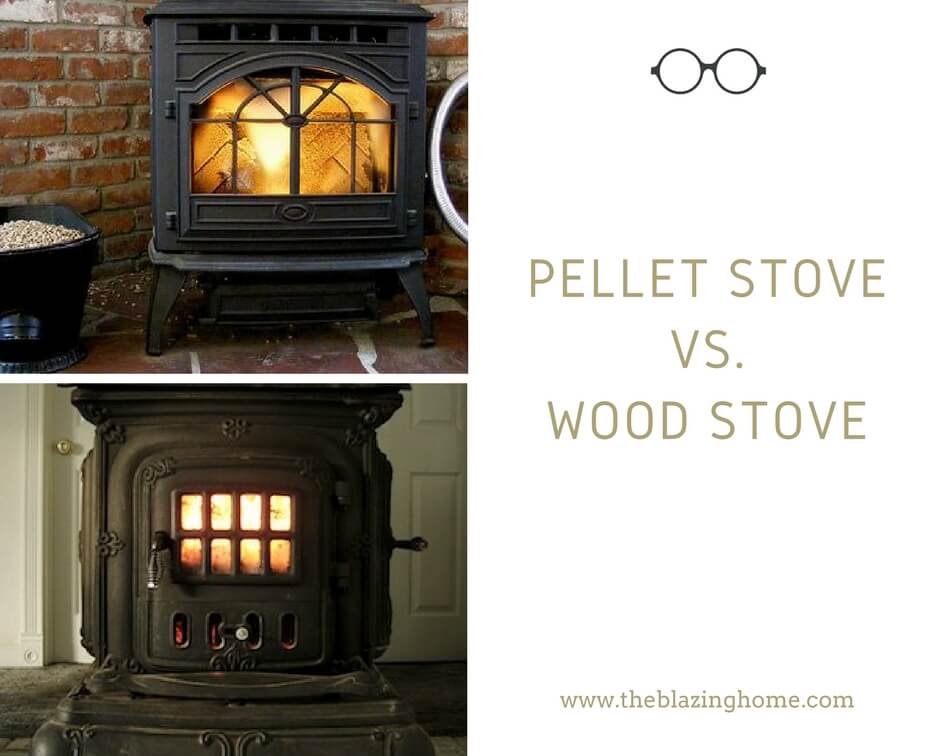 Freedom of Location
Freestanding pellets can be placed in any location of your house. Because it doesn't need elaborate exhaust system to emit the residual gases, it produces while you are burning the pellets on the stove. Moreover, this kind of pellet stove provides less amount of toxic gases and smoke. Our air will remain clean and clear So keep your pellet stove in a room where you love to spend most of your time.
But, Pellet stove inserts and wood stoves both need a particular chimney or heat shields to emit the gasses it produces. You have to choose a specific place that can set up or install this specific chimney system. You need to hire a professional in this field to check if your home is capable of setting a wood stove. Otherwise, you have to place it outside of your home or patio.
Don't decide in a hurry. Before making a decision think about it cool and calmly.
Price                                                          
The average price of a wood stove is about 3000$-5000$ including installation cost. If you already have a fireplace with a chimney than the installation cost can be reduced, and the value of the wood stove also be reduced.
Pellet stove comes with a price of around 1000$-3000$ and including the installation the cost will be about 2500$-4000$.
Related: Pros & Cons of Pellet Stove
Cost of Ventilation System
The ventilation system of the pellet stove is straightforward and spontaneously. To ventilate the smoke and gasses of the pellet stove, you need a pipe, and it ventilated through a small hole in the wall. So you can set up a pellet stove anywhere in the house.
Elsewhere, wood stoves need particular kind of chimney for the ventilation system and need professional's instruction to construct it. Otherwise, it will make your room smoky and foggy. This vent and professional help increase the cost of installation of a wood stove.
Fuel Cost and Source
The wood stove uses very conservative and ancient fuel source as they burn logs or chocks. Woods are very expedient and cost-efficient. Firewood can be harvested or collect from the forest or hills and store it in the outside of the house. If you don't have any firewood source, you have to buy it from nearby firewood shop. Per ton, firewood can cost $190, and for a complete season, you need woods worth $1235.
You know very well that pellet stoves utilise wood pellets as fuel. Pellets are green product since pellets are made of wasted woods that are collected from roadside scraps or sawmill waste or sawdust. Coming to the cost issue, per ton of wood pellets can be charged approximately $190. You may need approx. 7.5 tons of wood pellets if you use it only during the heating seasons. You have to fix a budget of $1425 approximately for a period. You can save money buying from the wholesaler, where the per ton price is $90-130.
Read: Pleasant Hearth Pellet Stove Review
Power Source Need for Stoves
Wood stoves work like a fireplace. Only you need to feed the firewood in the wood stove. No power source like electricity is required for the wood stove.
Pellets stoves need a constant electricity supply to run the blower fans, controllers, and motorised hopper. Pellet stoves consume power about 100kwh (kilowatt-hours) in a month, the rate of this amount of power consumption will be $9. This amount is less is less if you compare with any other power sources near at you hand. If no electricity in the home, there will be no smoke and no heat in the house. So we recommend you buy a backup power supply source like IPS or mini generator for the emergency.
Review: Castle Serenity Pellet Stove Review
Eco Friendly
In the residential area, residents tend to burn fuel at low smoulder to avoid overheating in their home. This waste a significant amount of fuel and these trends also cause pollution in that area. Burning wood creates lots of smoke, and burning wood produce some deadly gasses like nitrogen oxides, carbon monoxide, carbon dioxide and organic gases. The pie chart shows some gases emit when we burn one kg of woods. You can see that if you smoke wood, it will produce a perfect amount of toxic gases (carbon dioxide and Carbon mono oxide). They directly affect our environments and commonly known as the greenhouse gas. These gases are treating human and environment.
Pellet stoves generate no smoke to little bit smoke depending on the EPA standard or grade of pellets. So, this makes this stove eco-friendly and useful to our daily life.
Efficiency of Stoves
Usually, each pellet bag contains 40 pounds of pellets. The BTU output of 13.6 million per ton makes it most efficient fuel source for the fire. A pellet stove can make you warm and cosy for 65 hours without any interval. So it will be a life-saving machine during winter. You can get a pellet stove with efficiency range between 70%-90%. EPA certifies the efficiency rating.
The efficiency of wood stoves has been improved tremendously than older days. Now you can easily find a wood stove that has efficiency rating around 70%-75%. The ability mainly depends on the model or types of wood stoves and quality of woods used to burn.
Related: Pellet Stove Vs Gas Stove: Which One To Pick
Safety Factors
A wood stove can create a hazardous situation since it ejaculates flame sparks that can burn in the human body. On worst case scenario, sparking the flame that comes out from the stove can catch fire in your curtain or carpet. It can suddenly create massive fire and cause a fatal accident in your home. To prevent this kind of unwilling situation, you have to use a smoke detector. It will alert you when any strong smoke detected in the room. Also, you have to use floor protector on our carpet.
The burning of pellet stove takes place in the burn pot, and this section is protected by glass. So flame sparks cannot be given off from the stove quickly. The good news is that pellets burning are very clean and safe. It doesn't create such sparks as the wood stove does typically. You can touch any parts of exteriors of pellet stove except the self-glass. Make sure to wear gloves before reaching it.
Also Read: Comfortbilt Pellet Stove Review
Additional Space for Fuel
Firewood needs additional space to store. Woods attract the moulds and pests in the house. So, you can't save it inside the home; you have to store it outside of the home. So it needs the extra cost to construct a storage room for firewood.
Pellets are clean and small in size. So you can easily store it anywhere inside your home. High graded pellets come with an outstanding quality packet that why they are very easy to store in a drawer. Also, wood pellets don't attract pests in the house.
Maintenance
Wood Stove:
Chimney has to clean every month in winter. It is also recommended by the expert to inspect the component of chimney system in every season. You have to hire a professional and certified chimney cleaner for this cleaning operation.
The catalytic combustor of the wood stove has to be clean three times in a season.
Regular removal of ashes is needed. Wood stove produces a very bulk amount of ashes. So it's challenging to remove from the pot. Moreover, you have to clean the bark and wood chip masses.
You have to remember while buying a wood stove that it needs an outstanding amount of maintenance cost.
Pellet stoves:
You have to clean the burn pot and fire extinguisher regularly. It will take 2-3 minutes, and the process is straightforward.
You have to inspect the motor and blower fans of the pellet stove in a month. You can check it easy, all you have to follow the instruction provided in the guideline or user manual book. In case you detect some problem in this electrical components, then we suggest you hire an expert of HVAC in your nearby area. Don't try to fix it by yourself if you don't have experience in this field. It will be very risky and fatal for an amateur.
Only you need to hire professionals if there is a significant problem on the stove.
Related: How to Run Pellet Stove For First Time
Wrap it Up
So you have got a bright idea about pellet and wood stoves. Undoubtedly, a pellet stove is the champion for you, isn't it? Strictly speaking, pellet stoves may be a good investment if you think about the maintenance cost, safety, and eco-friendly and almost every criterion we pointed above.
You can go cynical for a wood stove if you not very much concerned about the global warming issue, and you harvest wood, and they are always readily available to stack. Moreover, the wood stove doesn't need additional power backup during the power outage. It will provide heating without any interruption. Only you have to supply firewood in the stove contentiously which is an annoying and irritating job to do. Also, some wood stove gives you the option to cook foods and BBQ's in an emergency situation or party.