There is no better way to enjoy your living space than by cozying up around with the best freestanding electric fireplace or electric fireplace inserts. Installing a freestanding one is not hard at all because they need less assembly and you can place them anywhere as they are portable. But, when it comes to electric fireplace inserts, it is not easy at all. You need to hire a professional in some cases which may cost both money and time.
However, one may not find it that much compilated if you have knowledge about wiring and chimney installation experience.

Here, we have compiled a comprehensive guideline on how to install an electric fireplace insert.
Best Place to Install Fireplace Insert
If you are thinking of where to install your new heater, we would recommend that you have it installed in the most used room in your home aside from your kitchen. This is usually the family room or a great room. Where you install one depends on your goals – you want to install one for personal enjoyment or for the sole purpose of heating a space. You can have one installed in your home office, guest room, master bedroom, or at your outside patio – choices are unlimited.
Minimum Clearance Required While Installing Electric Fireplace
Before planning to put an electric fireplace insert inside your existing fireplace, you have to maintain at least minimum clearance between each part as we stated below:
You should maintain at least 10mm or three-eight inches (3/8″) on top of your electric fireplace. You must be kept this clearance for both combustible and non-combustible materials.
The mantel board above the top frame of your electric fireplace should be setup keeping 12″ or 350mm clearance.
At least 1″(24.4mm) clearance to sides and back of the fireplace to combustible and non-combustible materials.
Step By Step Installation Procedure Of Electric Fireplace Insert
Step 1. Take Necessary Measurements
One of the painful things is that you bought an electric fireplace insert but it is not fitting inside your existing fireplace. This will happen if you purchase one without measuring the existing fireplace space.
So, check and double-check measurements before placing an order on Amazon or eBay.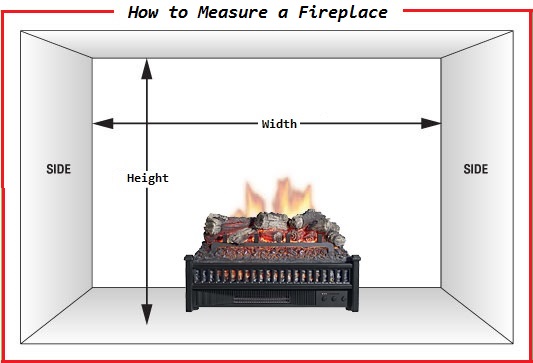 How and what to measure?
First, take a measurement tape. And then measure the length, width, depth, and height properly of your existing fireplace or fire pit.
So, this measurement will help you to narrow down your electric fireplace insert choice as you may find many electric fireplaces which will not fulfill your requirement. You can choose a fireplace that is smaller than your existing fireplace measurement. But, make sure that your chosen one looks good on it.
You can also get one that is slightly bigger than your fireplace. But, you need to do the necessary initiations before installing it.
Once you have finished choosing your desire electric fireplace, your job is not done yet. It's time to go down to the next step.
Step 2. Removing Unnecessary Parts and Cleaning Fireplace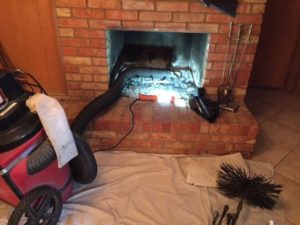 Your old fireplace may have doors, grates, or screens. You may not need them if you use an electric fireplace. You know what you have to do next. You just need to remove them from your fireplace.
You may also find a blower fan in the old fireplace. Go ahead and remove it as it is useless for the electric fireplace insert. Make sure that there is adequate room in your existing fireplace to place an electric fireplace insert.
When you finished removing useless parts of your old fireplace, next you have to clean your fireplace. You will find build-up like dust and debris stuck on the wall. What you need to do is- take a hard brush and clean wherever you see dirt and dust.
Step 3. Cover Your Chimney From Rain and Snow.
Put a cover plate on your chimney. This will prevent water from coming in. A cover plate is highly important before installation as it prevents water from coming in – in case your chimney doesn't have a rain cap.
It's very difficult to put a rain cap on your chimney. So, we advise you to hire a chimney expert for this.
Step 4. Seal the Damper
The damper is a very crucial part if you have a gas or wood fireplace in your home fireplace.
It is used to link the fireplace with your chimney. In the case of an electric fireplace, you don't need a chimney, as well as a damper.
So, close and seal the damper of your masonry fireplace. This will prevent drafts and loss of heat.
You may follow several techniques to seal the damper. But, we suggest you use an inflatable pillow or plywood pipe insulation for sealing.
Step 5. Power Outlet Setup
The next thing you'll need to do is to install a power outlet inside the opening. NOTE that all-electric insert plugs into standard household power outlets. It's best to install an outlet outside of your existing fireplace.
You may not handle this part if don't have knowledge about electrical wiring. So, hire a certified HVAC expert for this and make sure you merely install the power outlet low and near the fireplace.
Step 6. Install The Electric Fireplace
All the hard work is done, now it's time for real action.
Put the electric fireplace unit into your fireplace.
Step 7. Securing Your Fireplace Unit
Next, slide the firebox inside of this opening, center it, and levels it out. Some inserts come inclusive of tie-down brackets that a user will need to attach to the fireplace floor and back of the insert on both sides to secure it and ensure it doesn't tip.
Step 8. Install the Trim
This is your final step. Now that insert is safely secured in place, attach a trip or frame that will cover up gaps between the insert and walls of your heater's opening. Some models come inclusive of glass frames while others come with metal trims.
And there you have it; a complete electric fireplace ready for action.
For More Details, You Can Check This Article of Modernblaze.com
Watch This Video to Get Clear Idea About Installation Process
[youtube id="JS9E4aFNWCk" width="600″ height="340″ position="center"]
How Much Cost Needed To Install Electric Fireplace Inserts
Freestanding heaters cost about $80 – $500. Models with built-in frames and mantels cost approximately $400 – $2,200. The national average of installing an electric plug-in unit is $300. However, prices vary widely depending on the region or even by zip code. Let's give an example with a heater that averages $300.
Log Inserts: $150 – $200
Plug-in Inserts: $150 – $350
Built-in Inserts: $250 – $600
Labor: Most electricians charge $65-$85 per hour and can install your new unit in 2-4 hours. Thus incurring a total labor cost of $130 – $340
An additional standard outlet might be needed to be installed closer to your fireplace location, and this will cost an additional $100
Some heaters come with remote control capabilities which adds $75 to your overall costs
Ready-to-install mantels cost $275 – $850 depending on material and size. Custom models cost thousands of dollars.
Electric heaters lower overall heating bill and can cost approximately 7 – 13 cents per hour to operate.
Also Read: https://www.theblazinghome.com/best-electric-garage-heaters-240v/
Things One Need to Consider Before Buying an Electric Fireplace Insert
There are a few things that one needs to consider before the purchase of a fireplace. You'll first have to decide what type of fireplace you want – there are a variety of types of heaters available today and selecting one can seem to be time-consuming and tiring. Let's look at some key things to take into consideration.
Budget
The most important thing is first to consider your budget. This initial budget must include not just the initial cost of purchase and install, but also future running costs.
Energy Source
There are five main types of heaters namely wood, pellet, gas, bioethanol, and electric. Here, we are going to focus primarily on electric fireplaces. Thus, you have to consider the power consumption of your electric fireplace in your calculation before placing an order for your one. Each electric fireplace inserts sold on the marketplace offer a different power consumption rate. So, remember to include the electricity cost at your discretion.
Design
A fireplace is a great addition to any home. There are so many different models available, and customers are spoilt for choice. There are traditional-style fireplaces made from dark, detailed marble, iron, and stone. Others are more modern designed with a design based on minimalist and sleek styles. These types are smooth, highly stylish, and very elegant.
Heat Eradicated
Electric fireplaces are incredibly easy and safe to use. However, the amount of heat they produce is limited to just the immediate vicinity.
Ventilation
You need to have adequate ventilation as inadequate ventilation can cause your loved ones to become unwell and dizzy. The good thing about using an electric unit is that they are self-contained and therefore does not exhaust any smoke into a room.
Also Read: https://www.theblazinghome.com/best-electric-garage-heater-120v/
Tips and Precautions
Do not use extension cords – always plug the heater directly into the wall outlet
Heating element gets hot when switched on so take care to avoid burning your bare skin
Keep all items made out of combustible materials such as clothes, bedding, pillows, home and office furniture at a safe distance
Do not block fresh air intake vents
When not in use, ensure heater is always unplugged
Before disconnecting unit, turn off the firebox and remove the plug from socket or outlet
Never attempt to lift heater by its glass – always lift from the firebox
Fireplaces provide a warm and restful place for you and your loved ones to sit and relax. There are countless designs and models available in the current market. Installing your new unit is relatively easy, as you have seen above. Simply follow our laid-out tips and steps, and you'll have a working unit in no time. If you have any queries, do not hesitate to leave us a comment below and we shall get back to you ASAP.