The terrible winters do bring along the need to stay indoors for a better part of the typical day. This is to escape the extremely harsh external environmental conditions. Given that indoors are equally cold at such times also, there is the need to keep them warm too.
Several pieces of equipment and home appliances may have been utilizing for this job. However, none beats the pellet stove. This is due to its extremely low operational costs, lower utility bills, hotter flames, and ability to fit within any available space, to mention but a few!
The Comfortbilt pellet stove is one of these appliances. The proceeding Comfortbilt pellet stove reviews dare to shed more light on the finer details of this equipment. This is to guide would-be users like you in making informed decisions.
Click Here To View More Picture Of This Stove
Why You Should Trust Us
To come up with this review, we invested a great deal of time, energy and effort. Started our journey by checking out the top pellet stoves as of the year 2017. SO, we did this by accessing the leading online auction sites such as Amazon, eBay, and Alibaba.
Then proceeded to seek the opinions and tips of industry experts. We did this to find out those tips and factors that make an item of this kind stand out. We wrapped it up by seeking the views and testimonials of past users.
You can, therefore, count on this review to provide you with the right information you need to get started successfully.
Key Features Of

Comfortbit

Pellet Stove
Here are the top features of this stove and the accompanying benefits:
Easy Installation
This pellet stove is pretty simple and convenient to install. That's because it comes ready for use. There is no need of any requisition at all to assemble it before you start using it. All you have to do is find an empty space, place it there, plug the socket, and there you go!
High Heating Capacity
It has the ability to generate a large quantity of heat. As a matter of fact, it may generate up to 44,000 British Thermal Units of heat. This heat is large enough to impact an area of approximately 2,400 square feet.
As a result of these, you stand to derive plenty of benefits. For one, you stand to spend less on purchasing the needed fuel. Secondly, the quantity of electrical energy expended is also comparatively low. Finally, you also stand to gain a higher return on the amount of money you invest in purchasing and operating it. You just have to acquire one pellet stove and you don't have to worry about your any heating needs.
Thermal Efficiency
On the whole, the stove is able to convert up to 86% of wood fuel into heat. This figure is pretty high. It means you won't spend more to drive the heat you need. It also means stand to gain higher returns on the amount you invest.
Programmable Thermostat Controller
Setting the desired temperature has never been easier. Indeed this appliance enables you to set the temperature you desire effortlessly thanks to this programmable thermostat controller. Such an effortless temperature setting mechanism undoubtedly brings along the benefit of convenience.
Auto Light Ignition System
Triggering the appliance to commence the process of burning pellets is also pretty simple. This arises out of the auto light ignition system. This feature basically allows you to set the time when you would want the system to start the process. You then stay aside and let it 'do its thing'.
Due to the existence of this feature, you stand to derive plenty of benefits. These include not having to be individually constantly present to monitor the appliance. You also have the freedom to determine the time or duration of convenience when the system may start functioning.
Remote Control
Remote makes our life easier and better. Nowadays everything can easily operate by remote. So, why not pellet stove? Everybody can easily control this stove with smart remote control. Any pellet stove of this brand can easily operate by remote. It is the safest way to operate a pellet stove.
Mobile Home Approved
Circumstances may often arise that may require you to change your place of residence. These include a change of job, loss of a job, education, or leisure. When such issues arise, you will often have to carry all your belongings. For this to happen conveniently, all your furniture and items have to be mobile and portable.
This appliance was designed with this particular need in mind. It is mobile home approved; which means it is very portable and convenient to handle. Because of this, you are spared of any unnecessary hindrances that may often arise in the cause of a move. The best assurance of the peace of mind you need to execute a successful move.
Hopper and Vacuum Safety Switch
To produce heat, the wood pellet must insert into a hopper. This appliance's hopper comprises 55-pound capacity. This capacity is fairly large. For this reason, it assures you of constant heat for a fairly prolonged duration of time.
Its overall safety, on the other hand, becomes possible by the vacuum safety switch. The work of this switch is to shut the entire system down automatically. It may also alert the users of any outstanding dangers that may be impending.
Due to the existence of these two features, you may be sure to enjoy the benefits of the appliance. You should also expect to keep off all the associated dangers of the use of such an appliance at the same time.
Easy Cleaning
Keeping this stove clean won't cost you a lot of time and effort. This is because of two main reasons. For one it is accompanied by an ash pan. All the burned wooden pellets may be successfully emptied onto this pan for safer disposal later. Secondly, it burns a higher percentage of wood (86%). This means it generates comparatively less ash.
Powerful Blower
Fanning the flames of the pellet stove is further enhanced by the existence of a powerful blower. The blower draws in a large quantity of air and channels the same to the flame at extremely high speed. In so doing, it keeps the flames burning extremely hot. This blower and its blowing mechanism also ensure a uniform flame.
This uniformity means that you experience even temperatures that do not diminish with time. The uniformity also ensures that as much wood as possible is burned up. Because of these, you should expect optimal performance and amazing end results indeed!
Warranty
Sophisticated products of these kinds may often fail to operate as required. Some of their parts and components may also fall off or become compromised. The users should ideally be safeguarded from these associated dangers by the manufacturers.
Comfortbilt, the manufacturer of this pellet stove, understands this too well. That's why it accompanies this stove with a generous and comprehensive manufacturer's warranty. It basically promises to compensate the user/buyer for any damages, failures, or malfunctions that may arise. (The warranty lasts one year and as such, those issues must within duration of one year after purchase). This assures you of further peace of mind.
Our Editor Rating On Different Aspect of This Pellet Stove
This pellet stove is rated against several parameters outlined below:
Price 4 out of 5
This Comfortbilt pellet stove is moderately pricey. This means that it is not so expensive or affordable. It also means that the sum total benefits you may possibly derive out of its use are comparatively fewer. Because of this, a score of 4 out of 5 is by all means deserved.
A score of this kind means you are on the whole, better off with it. The score also infers that you stand to derive moderately higher returns by opting for it. This score also means that the stove is, by all means, a lucrative purchase as the benefits outweigh the costs.
Functionality 4 out of 5
Functionality refers to the sum total uses to which the stove may be devoted. With this stove, you can heat up a whole room by use of one device only. It also generates plenty of light and may hence be substituted for a light bulb. The stove may further be used to enhance the interior décor of the rooms wherein it is mounted.
By reason of being able to discharge several roles at a time, the stove deserves this 4 out of 5 ratings. By choosing to make this Comfortbilt pellet stove HP-21 a part of your household appliance collection you stand to gain so much more.
Durability 5 out of 5
Most of this stove's crucial components are made of fairly durable materials. These include granite. The structure lacks more durable materials like stainless steel or iron. This means that the stove is on the whole fairly durable. Because of this, it warrants a 4 out of 5 ratings.
Owing this stove spares you to frequent repairs and maintenance. It, however, does not assure you of the peace of mind you need to fully leverage its benefits. That's because its material composition, as has already been hinted, are not too durable. The stove is still a reliable possession though, notwithstanding this minor setback.
Design 4 out of 5
Its overall design is intended to exude convenience, comfort, enhanced aesthetics, and ease of handling. The stove is indeed comfortable to handle and operate. Its general appearance is stylish and for this reason, contributes better looks of the home. Its compact design also simplifies the process of carrying it around.
These factors make the 4 out of 5 ratings much deserved. The rating also implies that you stand to gain several advantages by opting to settle on this stove. This fact also means you won't have to buy several stoves separately. All the benefits you could be looking for are available in one convenient package.
Performance 5 out of 5
Apart from elegant design and seamless functionality, the stove also discharges its mandates with ruthless efficiency. It burns up to 86% of wood fuel. This leads to less wastage and greater returns on investment. The stove is also pretty simple and convenient to engage and operate. This absolves you from the need to expend plenty of time and effort to accrue the benefits you require.
These two performance indicators imply that a 4 out of 5-star rating is by all means justified. Would you wish to save time and effort? Would you also wish to reap the benefits of unparalleled convenience? If yes, this stove is yours for the taking!
Real Customer Reviews And Feedback
Below are samples; some positive and some negative of the past users of this pellet stove.
Positive Reviews
"With this pellet stove, I have been able to heat up an entire room by use of one appliance only. This has saved me a great deal of money and space."
"It generates consistent flames, bright light, and extremely warm ambiance. I have had to shut off my light bulbs and save a lot on utility bills"
"Though it requires electrical energy; the consumption is way too little. Moreover, electrical energy is only required during the ignition stage."
"The fact that the product qualifies for most state and federal tax incentives make it all the more desirable!"
"The 55-pound hopper means I may rest assured that the stove shall produce the heat I need for as long as I want."
Negative Reviews
"The granite construction is not so durable. This means shorter life expectancy and comparatively lower returns on investments."
"It is a bit weighty. It weighs 265 pounds (120 kg). I find it a bit cumbersome to move around."
"Sometimes the flames may get unnecessarily hot. This has always brought along some discomfort."
PS: Its average star rating from Amazon 5 out of 5 stars. it's quality and performance is mind-blowing.
Pros
Excellent Heating Capacity: The appliance has the ability to heat an area measuring 2,400 square feet. This is pretty large and may cover the entire living room of a typical family home.
High-Temperature Output: It produces heat that is 44,000 British Thermal Units hot. This is hot enough to keep your room as hot as should be in the extremely cold winter months.
High Energy Efficiency: This pellet stove has the ability to burn and convert up to 86% of the wood fuel into heat energy. Because of this, you stand to save plenty of money on fuel costs. You also stand to derive as much value for the amount you spend as possible.
Easy and Convenient to Operate: The stove is equipped with certain top-notch features that greatly simplify its use. These include the programmable thermostat and automatic ignition mechanism. You, therefore, are assured of unparalleled convenience.
Large Bay View Window: It does have a large window via which the produced heat is dissipated into the room. This facilitates the process of heat transfer and enables a whole room to heat up instantaneously.
Cons
Potentially Harmful: If not handled with care, the stove has the potential to blow up and imperil the room occupants.
Bulky: The overall dimensions of this stove are 24 inches wide by 24 inches deep by 36 inches long. This is way too large to enable you to handle it seamlessly.
Huge Space Requirements: This pellet stove is too large as has been stated above. Consequently, it requires plenty of space to successfully mount. Woe unto you in case you reside in a small home!
Final Verdict
We do hope that you have found the review above not only eye-opening but also informative. We had a limited amount of time and space at our disposal. It was not humanly possible for us to exhaust the entire subject matter in a single review. Also, the nature of such products is rapidly evolving and constantly changing. Because of this, some aspects of the information provided above may not hold for long. That aside, we strongly encourage you to make a purchase of this item soonest possible. This is because the terrible winter season is just around the corner. You may want to take every necessary precaution to cushion yourself against the harsh side effects. reviews dare to shed more light on the finer details of this equipment. This is to guide would-be users like you in making informed decisions.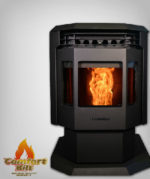 Editor Rating

Rated 4.5 stars

Outstanding
---
Reviewed by:

Published on:

Last modified:
---